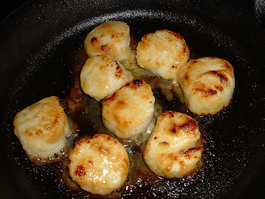 4-6 sea scallops per person, or 1" pieces of chicken breast
1/3 strips of bacon, 1 per scallop or chicken piece
¼ cup maple syrup
¼ tsp. horseradish

Mix syrup and horseradish. Wrap each scallop or chicken piece with 1/3 strip bacon and secure with a toothpick. (Bacon is not necessary, just tasty addition.) Place on broiler pan, brush with syrup, and broil 3 minutes. Turn, brush, and broil 2-3 minutes more, until bacon is crisp. Serve hot.