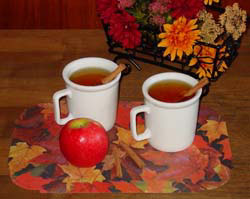 6 cups apple cider
¼ cup maple syrup
1 orange peel cut into strips
1 lemon peel cut into strips
2 cinnamon sticks
spice bag & string
6 whole cloves
6 whole allspice berries

Pour cider and syrup into large pot. Place spices and peels in center of a spice bag and tie up with a piece of string. Drop spice bundle into liquid and heat over moderate flame for about 10 minutes. Remove spice bag and discard. Ladle maple cider into mugs and serve warm. Optional: garnish with a stick of cinnamon for stirring, float thin slice of lemon or orange or whipped cream on top.