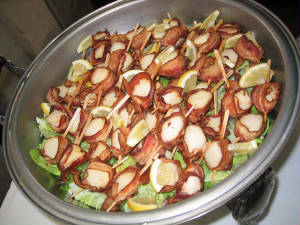 MAKES 28 APPETIZERS

Rinse 1 pound of scallops. Drain; pat the scallops dry. Cut any large scallops in half crosswise.
Cut 12 to 14 slices of bacon (about 1/2 lb.) in half crosswise. Wrap a piece of bacon around each scallop. Secure with a wooden toothpick
Place the scallops on the greased unheated rack of a broiler pan. Brush the scallops with pure maple syrup. Broil about 4 inches away from the heat for about 8 to 10 minutes, or until the scallops turn opaque and the bacon is crisp.
Turn once and brush with additional maple syrup. Drizzle with additional maple syrup, if desired. Serve warm.
Delicious!!